We Want To Be Your Santa Claus Again This Year!
Leave Us a Google Review and You Could Win an Apple Watch!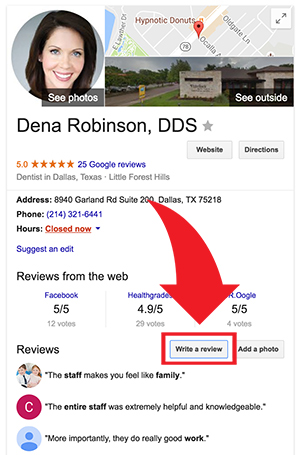 The holiday season is upon us and Robinson Dentistry wants to send some Christmas cheer your way!  Whether a cool, new Apple Watch is on your Christmas list, or you are looking for that perfect gift for a friend or family member, Robinson Dentistry wants to be your Santa Claus!  We are giving away a brand new Apple Watch, valued at $350!!
All you have to do is leave us a Google review before Monday, December 19th and you'll be entered to win!
Here is how to leave a review, it's easy!!
Step 1: Find Dena Robinson, DDS on Google by clicking here.
Step 2:  If using a desktop computer:  Click on the "Write a review" button in the reviews section (see image to the right) and leave us an honest review about your experience with Robinson Dentistry.
If using a mobile device: Click on the 5 stars just below the profile picture at the top of the page.  Then scroll down to the 'Rate and Review' section, and click on the blank stars to rate our business and leave your review.   Then simply click the 'Post' button in the top right corner to post your review to our page.
NOTE:  You must have a Google account to leave a Google Review.  You can sign up for a free account if you don't already have one, it's easy and it's FREE!  To sign up, just follow the prompts after you click the 'Write a Review' button.
Step 3: We'll enter your name into the drawing to win a new Apple Watch!
The winner will be chosen December 19th and entries are limited to one per person. If you have questions please send us an email, or give us a call at 214.321.6441