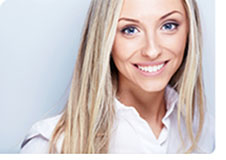 We all dream of a white sparkling smile, but over time our teeth become darker due to our diet and mineral deposits trapped within the outer layers of our teeth. But don't worry, Robinson Dentistry can provide you with a breathtaking & natural smile!
At Robinson Dentistry, we make customized teeth whitening trays for you that are specifically shaped for your teeth. We do this by taking a 3D impression of your mouth and then creating the trays from the impression. Our take-home kits look similar to what you'll find in drugstores, but contain stronger chemicals that produce results much more quickly. Over the years we have found take-home kits from Venus Smile work the best and we proudly use their products.
SmyleXO Teeth Whitening
Our newest and most exciting way to whiten your teeth, and fast! You spend only 30-45 minutes in our office, and you'll receive a take-home whitening pen to use at your leisure. Give us a call to schedule an appointment, or check out the website for further information: www.smylexo.com/
Philips Zoom Whitening
If you want to add an instant sparkle to your smile, our Philips Zoom Whitening treatment is both extremely effective and convenient. Only Philips Zoom WhiteSpeed delivers maximum results, advanced LED light-activated technology and variable intensity settings. Plus, it's clinically proven to whiten teeth up to eight shades in one procedure.
The ZOOM! light-activated teeth whitening gel's active ingredient is hydrogen peroxide. As the hydrogen peroxide gel is broken down, oxygen enters the enamel and dentin, bleaching colored substances while the structure of the tooth is unchanged. The ZOOM! Teeth Whitening light aids in activating the hydrogen peroxide and helps it penetrate deeper into the surface of the tooth.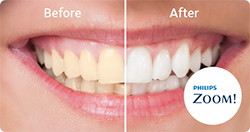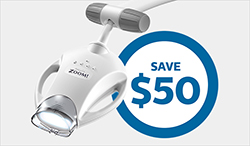 Before deciding whether Zoom in-office teeth whitening is right for you, your dentist will conduct a comprehensive examination of your teeth and gums to ensure proper health, as well as talk with you about your oral hygiene and lifestyle habits to determine what whitening solution is best for you.
Venus White Pro
Venus White Pro is a high-performance whitening system specially formulated for simple at-home use. After creating your custom-fit trays, Dr. Dena Robinson will determine the right Venus White Pro gel for you. The Venus Whitening system comes in three different strengths depending on your teeth's condition.
Your customized bleaching trays will whiten your teeth evenly and naturally and you can choose to wear them during the day or at night. The whitening gel is mint flavored for your comfort and contains potassium nitrate which helps decrease sensitivity associated with bleaching.
For instructions on how to use your Venus White Pro kit at home, Click Here.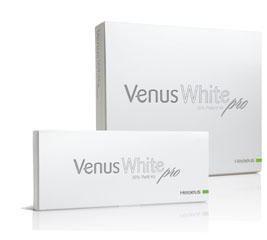 Keep in Mind
There is nothing harmful about teeth whitening procedures, as long as they are dentist-supervised. Gum irritation and tooth sensitivity are the most common side effects of teeth whitening. We will do everything we can to minimize these side effects, all of which typically disappear completely after the whitening phase is completed.