Invisalign is a process to straighten teeth without utilizing metal brackets or wires. A set of custom-made, smooth and comfortable clear plastic aligners will gradually and gently shift your teeth into place, based on your dentists treatment plan. The aligners are worn for about one week at a time until treatment is complete, and people won't even notice you're straightening your teeth!
The Invisalign Process
Using the 3M True Definition Scanner, we will create a digital 3-D image of them. From there, we map out a precise treatment plan, including the exact alterations of your teeth. We will discuss the approximate length of treatment and show you a virtual representation of how your teeth will move with each stage of treatment.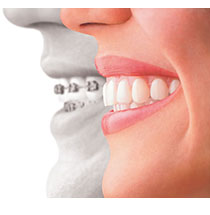 A series of custom-made, clear aligners are then created specifically for you, based on your individual treatment plan. You will simply wear them throughout the day, removing them when you eat or to brush and floss your teeth. As you wear each set of aligners, your teeth gently and gradually begin to shift into place.
Approximately every one to two weeks, we will switch to a new set of aligners, advancing you to the next stage of your treatment. To monitor your progress, we will also schedule occasional checkups with us every six weeks.
The treatment ends when all the alterations to your teeth are complete and you have the beautiful smile we planned on creating. As a bonus, Dr. Dena will give you a free tube of whitening gel! We will also give you a retainer to keep your smile looking flawless.