New & Existing Patients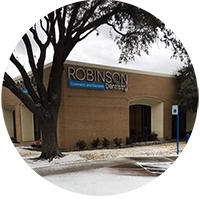 Thank you for choosing Robinson Dentistry! Dr. Dena Robinson, Fellow of the Academy of General Dentistry has been one of the top dentists in the the East Dallas, Garland, and Mesquite, Texas area. We offer a full range of restorative and cosmetic treatments, as well as comprehensive care to meet the needs of your entire family – with sedation options available for those dental phobics.
If you are new to Robinson Dentistry, please take a moment to fill out our New Patient Questionnaire for Adults or our New Patient Questionnaire for Children.
For current patients, you can access your account through the Patient Login.
Accepted Insurance
Robinson Dentistry is happy to accept Delta Dental Premier Dental Insurance. Delta Dental offers affordable dental insurance that provides superior benefits to customer across the United States. If you are an AARP® Member and have an AARP® Dental Insurance Plan, it is administered by the Delta Dental Insurance

Company which Robinson Dentistry accepts.

CLICK HERE to search for affordable dental insurance plans at DentalForEveryone.com.



If you have questions, please call us at (214) 321-6441 and our office manager will assist you in verifying your insurance coverage and rate of reimbursement.
Financing Options
Robinson Dentistry offers flexible financing options to new and current patients for all preventative, aesthetic and restorative dental procedures. Patients can finance their dental procedures through Prosper Healthcare Lending or CareCredit Patient Payment Plans. If you have any questions about Robinson Dentistry financing, please call us at (214) 321-6441 or contact us.

If you are interested in paying cash for dental services, Robinson Dentistry offers a 5% discount.
Care Credit
CareCredit is a healthcare credit card designed for your health, beauty, and wellness needs. It's a way to pay for the costs of many treatments and procedures and allows you to make convenient monthly payments. For complete details of healthcare financing terms, please review the CareCredit account agreement within the application.