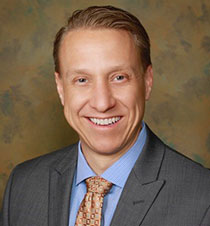 Dr. Bryan T. Moore
General Dentist – Oral Surgery
Dr. Moore is a General Dentist who provides oral surgery services. He completed a post-graduate dental residency training program, where he received training in the removal of wisdom teeth, oral surgery, dental implants, and IV sedation.
A Dallas native, Dr. Moore received his Bachelor of Arts degree from The University of Texas at Austin and his Doctor of Dental Surgery degree from Baylor College of Dentistry. He then continued his training with an additional year in a general practice residency at The University of Texas Health Science Center in San Antonio. During his residency he received advanced training in dental and implant surgery, as well as sedation procedures.
Since Dr. Moore's return to Dallas, he has focused much of his attention on expanding the scope of procedures offered to patients in the general dental practice. His practice enables patients to receive safe and caring surgical treatment, with predictable surgical techniques, in a comfortable and familiar setting.
My Mission
"My mission is to provide skillful surgical services, to the absolute highest professional standards in an environment that is convenient, comfortable, and familiar to each patient."

– Dr. Moore